Our Services: Grow Your Revenue
Increase your cash flow by applying simple marketing methods.
Our Services: Grow Your Revenue
Increase your cash flow by applying simple marketing methods.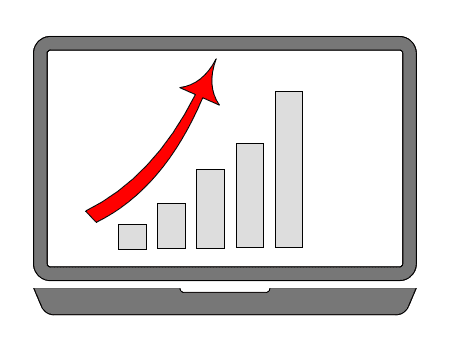 Consulting Services
GROW YOUR REVENUE
You are ready to take your business to new heights and continue moving forward! You definitely need a simple and solid Marketing Strategy to get you there. We can provide you the specific direction that you need from nuts to bolts and any combination in between including:
Goals & Conversion Analysis
We ensure that your goals tie to key success metrics to measure the effectiveness of your marketing efforts.
We connect soft metrics to hard metrics and adjust your measurement framework as business objectives and customer needs change.
Lead Generation Funnel(s) & Traffic Building
Your communication canvas is based on a medley of relationship-building programs designed to foster continuous connectivity through the full customer lifecycle.
We implement simple lead generation funnels that convert your prospects and qualified leads into paying customers.
Website Optimization
Your website is the hub of your digital ecosystem and should be treated accordingly. We incorporate basic SEO and simple best practices to improve the performance of your website, drive traffic, increase conversions, and grow revenue.
Strategic Partnerships & Collaboration
We identify strategic partnership opportunities and design collaborations that enable a win-win-win relationship for all parties involved.
Offline Integration
Your customers should experience a streamlined marketing message no matter which touchpoint they encounter your business. We integrate your digital marketing with ALL other marketing channels to ensure a consistent and positive customer experience.
Management & Execution
Let us take on the day-to-day management and execution of your digital marketing channels so that you can focus your time on the revenue-building activities that grow your business.
Packages & Pricing Models
MARKETING MASTERMIND PACKAGE
$
1,500
/

6-Week Online Series
Weekly Zoom Session

• Collective of up to 8 participants

• 30-minute one-on-one consult

• You will leave with clarity on your:

» Target Audience

» Communication Strategy

» Lead Generation Funnels

» Website, SEO 101, Basic Email Strategy

» Content Efficiency & Social Media (blog, video, podcast, posting)
BACK TO BASICS MARKETING PACKAGE
$
2,500
/

Annual Subscription
Online Group Participation facilitated by Katie covering

• Best Practices

• Trends

• Member Highlights & Industry-specific examples

» Discounted pricing for one-on-one consultations

» You will be coached through how to create a Lead Generation Funnel and Communication Strategy specific to your business needs and target audience (includes feedback & review)
ONE-ON-ONE CONSULTING PACKAGES
$
225
/

Hour (Starting Rate)
In-Person OR Online

• Hourly rates starting at $225.

• On-site

» Half-day @ $700

» Full-day @ $1,500

» + travel and expenses

 

• Long-Term Monthly Retainer starting at $5,000/month

» Service or project-based

» Discounted hourly rate
Packages & Pricing Models
MARKETING MASTERMIND PACKAGE
$
1,500
/

6-Week Online Series
Weekly Zoom Session

• Collective of up to 8 participants

• 30-minute one-on-one consult

• You will leave with clarity on your:

» Target Audience

» Communication Strategy

» Lead Generation Funnels

» Website, SEO 101, Basic Email Strategy

» Content Efficiency & Social Media (blog, video, podcast, posting)
BACK TO BASICS MARKETING PACKAGE
$
2,500
/

Annual Subscription
Online Group Participation facilitated by Katie covering

• Best Practices

• Trends

• Member Highlights & Industry-specific examples

» Discounted pricing for one-on-one consultations

» You will be coached through how to create a Lead Generation Funnel and Communication Strategy specific to your business needs and target audience (includes feedback & review)
ONE-ON-ONE CONSULTING PACKAGES
$
225
/

Hour (Starting Rate)
In-Person OR Online

• Hourly rates starting at $225.

• On-site

» Half-day @ $700

» Full-day @ $1,500

» + travel and expenses

 

• Long-Term Monthly Retainer starting at $5,000/month

» Service or project-based

» Discounted hourly rate
[et_pb_wpt_gravityform gravityform_id="gf-3" title="off" description="off" ajax="on" text_input_bg_color="rgba(0,0,0,0.1)" progress_bar_color="#e02b20" _builder_version="4.16" title_font="Open Sans|700|||||||" description_font="Open Sans||||||||" label_font="Open Sans|700|||||||" sub_label_font="Open Sans||||||||" field_description_font="Open Sans||||||||" input_font_font="Open Sans||||||||" checkbox_radio_field_font="Open Sans||||||||" placeholder_font="Open Sans|||on|||||" placeholder_text_align="left" placeholder_text_color="#8f8f8f" placeholder_font_size="14px" placeholder_line_height="1.2em" consent_checkbox_font="Open Sans||||||||" consent_description_font="Open Sans||||||||" validation_error_heading_font="Open Sans|700|||||||" field_validation_error_font="Open Sans|700|||||||" confirmation_message_font="Open Sans|700|||||||" progress_bar_title_font="Open Sans||||||||" progress_bar_title_text_color="#000000" section_field_title_font="Open Sans|700|||||||" background_color="#ffffff" custom_form_button="on" form_button_text_size="16px" form_button_bg_color="#e02b20" form_button_font="Open Sans||||||||" form_button_alignment="right" custom_margin="||||false|false" custom_padding="|10px||5px|false|false" border_color_all_input_general="#e02b20" border_width_all="1px" border_width_bottom="1px" border_color_bottom="#e02b20" global_colors_info="{}"][/et_pb_wpt_gravityform]